WHITE TILE ADHESIVE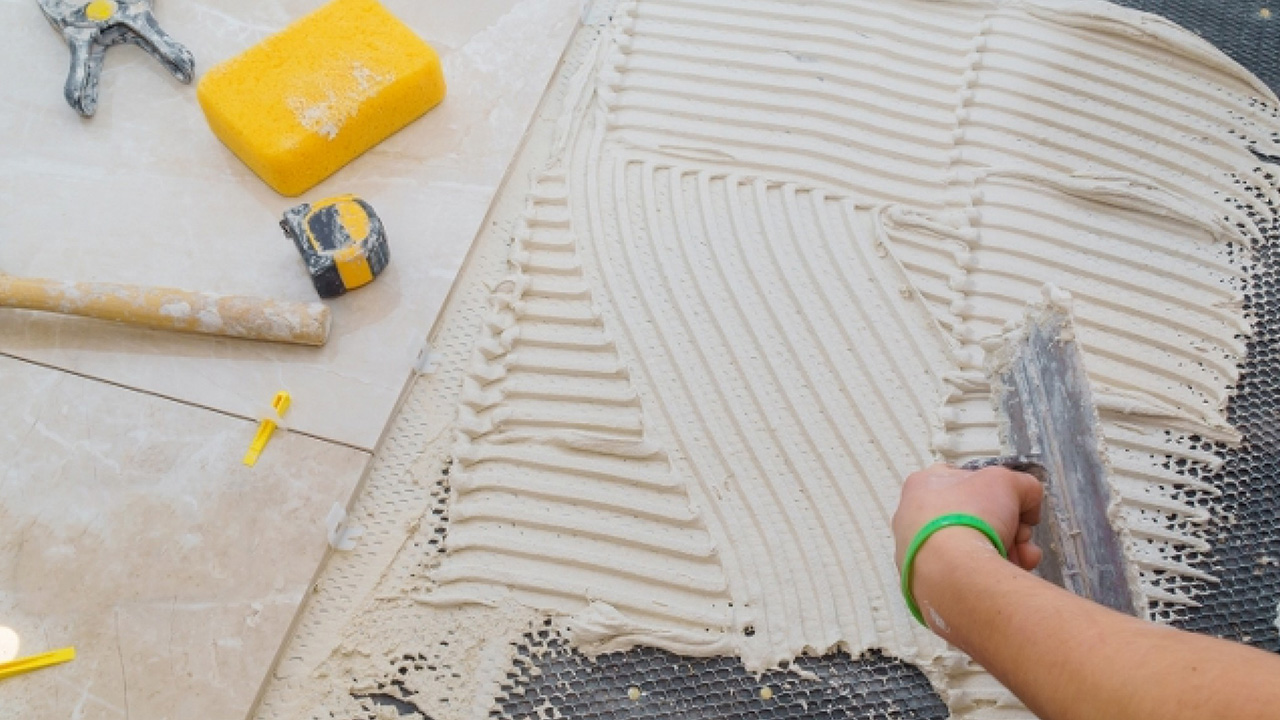 Description: C white cement based, single component, flexible, polymer added powder adhesive mortar with reduced slip.
Binder: Portland white cement
Aggregate: 0-0.7
Appearance: White powder
Mixing Ratio: 5.2- 6.4lt water/ 20kg powder
Performance Data:
Flexural Strength (N/mm 2 ) ≥ 2.5 N/mm 2
Compressive Strength (N/mm 2 ) ≥ 15 N/mm 2
Water Absorption (g): After 30 min ≤ 5
After 240 min ≤ 10
Shinkage (mm) ≤ 3
Packaging: Packed in 20kg plastic lined paper sacks
Storage: Store in dry medium. Do not stack more than 10 bags on top each other.
Shelf Life: 12 mounth when stored in the original sealed packing in dry place.
PotLife : Approx. 6 Hours
Working Time: 45 minutes
Open Time: After 30 minute ≥ 0.5 N/mm 2
Grouting: 8 Hours after on wall; 24 hours after on floor
Application Temperature Ranger: (+5 o C) – (+35 o C)
PREPARATION & APPLICATION
Preparation: Substrates must be sound, free from oil, grease and sufficiently dry. Cementitious substrates must be cured. Make good any unsound areas and remove flaky or peeling layers. Wipe the back side of tiles with water if dusty before tiling.
Mixing: Pour 20 Kg of Yapfix Granite Adhesive into 5-6 liters of clean water slowly and mix to obtain a homogeneous paste free from lumps. A low speed mixer is recommended to mix. Do not add any additive which is not mention in the instructions for the application.
Application: Spread the mortar onto the substrate with notched trowel of which notch size is appropriate to tile dimension (See Notch size recommendation table) To obtain a good adhesion first apply a thin coat of YAPFIX Granite Adhesive with the flat side of trowel, then notch with the toothed side of trowel.
Application of large tiles (greater than 40x40cm), on existing tiles or which are subject to frost or heavy traffic, YAPFIX granite adhesive should be applied also on the back of tiles. (Combined method)
Open time is 20 minutes. Install the tiles within this period with pressure. Unfavorable climatic conditions (high temperature, low humidity, wind, etc) can reduce this time to just a few minutes. If this period exceed, scratch and discard the mortar.
Dispose mortars of which pot life is expired. Clean tools and hands with water, surface with a damp cloth.
Tiles installed with YAPFIX must not be subjected to water for at least 24 Hours.
Interior/ Exterior Use Floor & Wall.
Dry & Wet conditions Excelent adhesion.
Non-Slump.
Easy workability.
You only use water to mix it.